I have a confession to make: I have been committing adultery. At least a few times a day for the past couple of weeks.

Even if you've only stopped by my blog once or twice, just enough to think "God, this chick is so vapid and her blog so uninspired**!", that's enough to know about 'Lil Nazi (AKA Black Betty, Guten Tag, Gut and Tag, and Gorgeous George). I love my car. More than anyone should love anything that does not have a beating heart.

But I have to confess...I've been having impure thoughts lately. About another car. I've dreamed about this other car, and become slightly obsessed with this other car. My heart beats a little faster ever time I look at her. She's so...pretty. So...fluid. So...curvy. So...fun. So...quick. So...fuel efficient.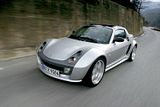 Smart Roadster BRABUS



JUST LOOK AT HER! Do the full
360 tour
to get the full effect. Mmmmmmm. I'm totally having sex with her in my mind right now.
Unfortunately, because she's little and cute and fuel efficient, and not ginormous and capable of fording deep rivers and climbing mountains and getting only 12 miles to the gallon, she's of course not available in the U.S. yet.
But soon, my love. Soon.
* NOT TRUE. So no don't even think of messing with AMBF because I will cut you. With a grapefruit spoon.
** The uninspired part is especially true today, since I started about eight different posts and decided they all sucked donkey ass. I'm not confident that this one will be any better.