I have spent most of the past two days trying to keep my skin in one piece - and that one piece attached to my body - through a vigorous regimen that consists of applying copious amounts of aloe vera gel, lotion, and body oil to my poor, distressed skin. This effort has been woefully unsuccessful, as the skin on my shoulders and the back of my neck has decided I treated it so badly that the best thing for it to do is depart from my body, and it is now coming of in large sheets, possibly enough to feed the population of a small third world country. Tastes like chicken!
I might as well start skin cancer treatment now since it's inevitable down the line, especially now that I have flambéed it. Get a head start, you know? I don't remember
ever
being this badly burned. Well, actually, the weird thing is it's not really
burned
skin, it just turned really brown and leathery, and now it's peeling. It's really quite disgusting as is, but at least it never was red or blistery. I don't know if that's better or worse, though. Maybe it wasn't bad enough to burn, or maybe I skipped burning and went straight to charbroiled. I'll let you know in a few years.
And as promised to
LocuTus
(who had better have a picture of his nipple piercings up on his site), here, in honor of Half-Naked Thursday, is the first picture of my infamous belly button ring.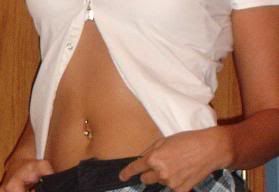 And to complete the trifecta of random musings, I found out yesterday that I'm going to be taking a business trip to Washington, D.C. at the beginning of next week. Normally, awesome, I love staying at a nice hotel and eating at nice restaurants on an expense account ("Why, yes, I'd love to try the filet mignon!"). HOWEVER, next week is my birthday. I will be spending my birthday alone and halfway across the country from anyone that loves me. I know there are thousands of soldiers in Iraq and Afghanistan and other places that spend their birthdays alone too, and they have the added bonus of being shot at and shit, so I can't complain too much, but I am still totally bummed.