This is probably the oddest banner ad I've ever seen. An advertisement for elk meat would be a bit strange in and of itself, but the use of the word "carcass" is downright bizarre. And faintly unappetizing.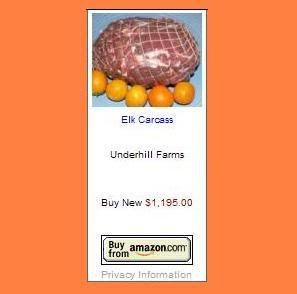 I'm relieved that they specified this was a NEW elk carcass. GOD KNOWS I WOULDN'T WANT A USED ONE.
For the curious, when you click the ad you are taken
here
. I recommend reading the reviews for a bit of a chuckle (although these are nowhere near the scope and hilarity of the
milk reviews
), and also be sure to click to view the full-sized image (or just click
here
), because who doesn't love a glistening meat shot?