Okay, I had the World's Most Boring Post Ever* up today, when something miraculous happened.

I have a candy dispenser on my desk filled with the manna** of the Gods (also known in some parts as M&Ms), as you can see here: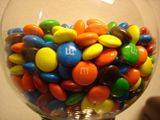 You can clearly see that there is an equal distribution of colors - orange, blue, yellow, green, brown, and red, all sitting happily in a color-blind society of candy-coated chocolate.
Today, I went to satisfy a chocolate fix, and received this in return:
I AM NOT KIDDING. That is what you think. An entire handful of blue M&Ms. What are the chances? I
swear
this is not a cleverly designed publicity stunt.*** It must be a sign from God. I don't know what it means, but I plan to find out. In the meantime, I think I will sell these "Miracle M&Ms," as I have taken to calling them, on eBay. The reserve will be set pretty low, like maybe $10,000, so bid early and bid often!
* Let's just say it involved the bowel movements of a Pomeranian and punctuation.
** "Spiritual nourishment of divine origin," for those of you who didn't attend Catholic school for twelve years.
*** But if anyone at CNN wants to contact me, my email is on my profile.