More pictures up; this time we have the rest of the London pics and most of the Paris ones. Still to come: Italy!

Now be a dear and help this man raise enough money to buy a swingset for his children.


Funniest. Auction. Ever. I am truly sick of the "Virgin Mary Found in Cum Stain on My Bed!" auctions. Funny when they first came out, now old and busted. This, however, is the shit. Buy his wristbands today!
"I have been training for the past ten years of my life for Triathlons. Although I have never won one I have finished in the top 500 everytime."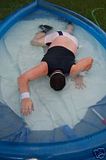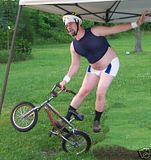 "My body needs to be in top shape to even compete. You can see from the pictures how demanding this can be. You can also see my modeling ability! This talent is natural! I have had no professional training-the camera just talks to me."