So of course I'm not sitting here doing a last-minute load of laundry and finishing packing just hours before I leave, because that would be perfectly ridiculous. I surely finished packing last night. Last week, even. Truly, I've been packed for a month. I actually started packing before I even knew I was going on this trip.

So as a (temporary) farewell and (sort of) last hurrah to the millions upon millions of people who read this (right?), I thought I would leave you with the following picture: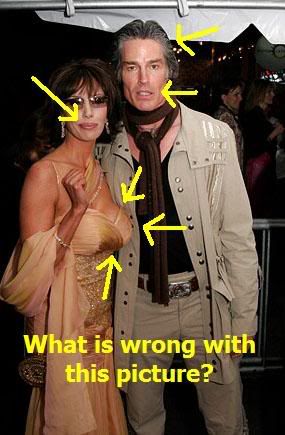 *
Normally I leave the celeb-bashing and photo-shopping of pictures to the girls over at
iMod*
and Trent at
Pink
, but WTF?!!?!? Are boobs supposed to come out at a 90 degree angle like that? And is that a man or a cardboard cutout she's next to?
So with that lovely image in your mind that may forever turn you off the breasteses, I will blog you again in two weeks!
SCOTT, YOU'RE IT!**


*All the cool kids are doing it nowadays.
** Please don't eff this up...I would like at least one or two readers when I get back.