This weekend, I almost went camping.

I grew up camping and love it. I'm talking real camping, too - none of this RV-with-electrical-hook-ups-and-real-beds pussy shit. I'm talking leaky tents, sleeping bags on the ground with rocks poking at you every which way, and a father who snores so loudly that you move to the car in the middle of the night because you can't sleep, even with headphones on.

But it's been a few years since I've gone, so I was really excited when one of AMBF's friends suggested we go Saturday night. We borrowed a tent from my parents, got the sleeping bags from AMBF's mom, bought stuff to grill and make s'mores, bought alcohol (of course), and were ready to rough it. We were freaking Lewis and Clark, baby.

So we drove the hour out to the campground, only to find out that it was full. Damn. So we drove back and grilled on someone's back deck, and roasted s'mores (God's one truly selfless gift to mankind) over the open propane flame. And let me tell you, a propane-fueled fire does not make the same caliber of s'more as a wood-fueled fire. And have you ever made one in a microwave? Let me tell you, those marshmallows, they just keep expanding. And they won't stop until they've oozed out of the microwave and taken over the house and become approximately the size of the Stay-Puff Marshmallow man from Ghostbusters.

Back to camping, which my ADD-saddled mind forgot about for a second there, what with visions of delicious s'mores dancing in front of my eyes. I was looking for a camping picture to include with this post, and found this: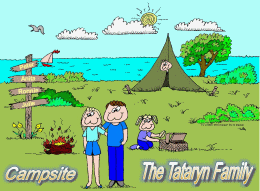 Someone please tell me why this family has testicles for mouths. If this is an accurate depiction of this family, I fear for their future generations. Not to mention that they look a bit retarded around the eyes, too. But maybe if they ARE retarded, they don't care about the balls growing out of their chins.