Alas, no one gets the Walkman, as I have returned safe and sound - other than being sunburned as hell. You'll have to wait until the skin cancer finishes me off in a couple decades.

It was sofa king fun! We were lucky enough to have chosen an amazing company to rent our canoes and equipment from, and they gave us the scoop on all the neat places to stop along the way. Most of the stops involved searching for a creek spilling into the river, anchoring our canoes any way we could, and walking up the creek to discover beautiful waterfalls and such.

We got there Friday evening around 6 and had the camp set up and dinner cookin' by 7. Because we rock like that.



(click thumbnail for larger view)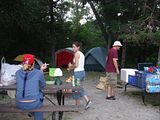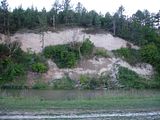 Our lovely campsite with all the comforts of home, except running water and flushing toilets and electricity.
The site was right on the river, across from this cliff.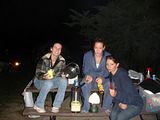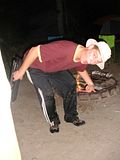 Us girls were talking when we realized that the boys had all left us. We armed ourselves with knives and a pot for protection. This is how they found us when they came back.
Tommy discovering that his walk had left him with stickies all over his legs.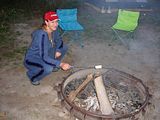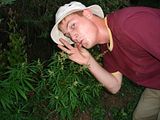 Katie and that old campfire standby, the s'more. It doesn't look like it, but there IS a fire going there.
Tommy with one of the, ahem, comforts we discovered right outside our campsite.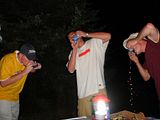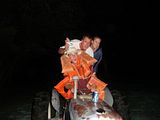 Shotgunning beers. A favorite activity of campers everywhere.
What happens AFTER you shotgun the beers and find a tractor outside your campsite.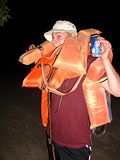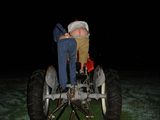 Tommy modeling the latest in canoeing safety equipment. The beer is essential. So is the hat.
Katie and Kyle and their matching assets.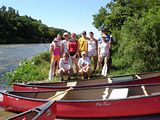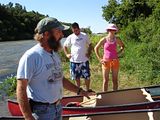 After waking up bright and early the next morning, we were ready to go. Everyone looks so happy and excited and un-sunburned!
The guy we rented the canoe from giving us pointers. Brian in the background is paying very close attention.

I almost didn't take my camera out on the river with us, since it's my lifeblood, but I fashioned a "waterproof" bag out of a Ziplock baggie with a strip of duct tape across the top (use #6,232) that worked well.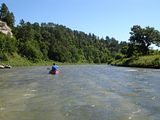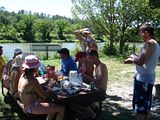 On the river!
The first couple hours of our trip we were in a wildlife refuge where no alcohol was allowed. We stopped for lunch the first landing site where you could drink. Although interestingly enough, everyone seems to be drinking Dew and water.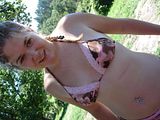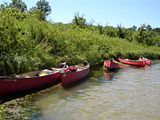 This is Melissa. Besides being completely adorable, she discovered that combining Off bug spray and Coppertone sunscreen will cause a chemical reaction that stains your skin yellow. You can kind of see a patch on her stomach.
The canoes lined up for a swimming break. It turned out to be a wading break since the water was only ankle deep.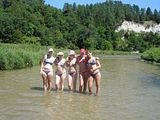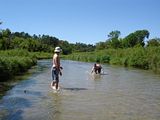 The girls.
Tommy and Kyle playing (and missing) Frisbee.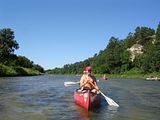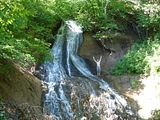 Katie and Kyle back on the river.
A waterfall stop. We saw four or five of this height or higher, and lots of smaller ones. That's Kyle, our own little sea monkey (he climbs and swims like no other) celebrating his climb.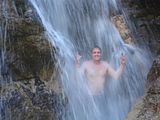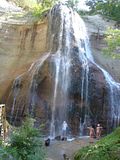 Kyle getting drenched at our second waterfall stop. This would be more impressive if you knew that the water was ice-cold.
Tommy under the waterfall, the highest in the state (the waterfall, not Tommy).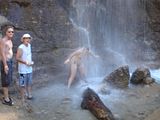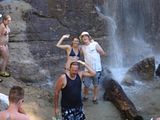 Melissa braving the waterfall.
Me, Tommy, and a mustached stranger under the falls.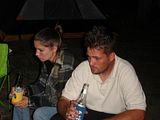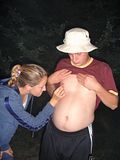 Back at the camp that night, Andy and Brian continue to drink like champs, even though they're exhausted.
Katie discovers Tommy's nipple.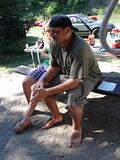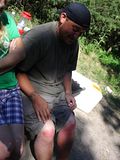 This is Sam. He has the World's Best Tan Line. On his feet.
As we sit around and eat breakfast, the sunburn comparisons begin. Sam's knees...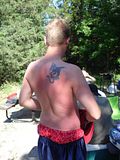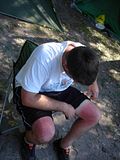 Tommy's back...
Brian's knees...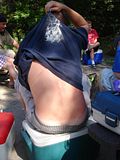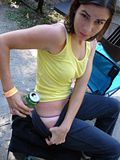 Kyle's back...
Andy's hip...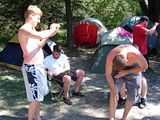 Wisely, the group slathers on even more sunscreen. In the end, though, it didn't help.


At this point, we figure we are EXPERTS at canoeing. I mean, we did it for like four hours the first day, right? So we decide to launch the canoes right from our campsite, where the bank is pretty steep, instead of walking down a bit to the sandy beach area. Here is a video of the first launch. Kyle is in the boat and Sam is pushing him. Note the rope in Sam's hands that he was supposed to hold onto to prevent exactly what happened from happening, and note the cooler sitting off to the side that I made them take out (very wisely, it turned out) before attempting the launch. (Hint: if it is choppy and the sound is broken up when you play it, let it play through all the way once, then hit "refresh" in the browser toolbar and it should play fine the second time.)

Needless to say, the rest of the canoes were not launched there.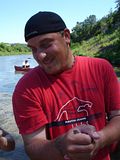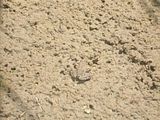 Sam discovered a friend at one of our stops.
These little guys were everywhere, but they blended in with the sand perfectly so you couldn't see them at all. Until you stepped on one.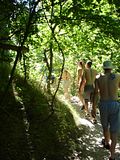 Another waterfall stop.
Treking up a creek to find the natural ice-water "jacuzzi."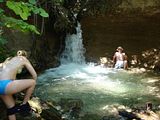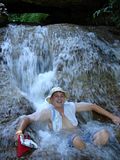 Melissa and Tommy are the first two to jump in.
Tommy chillin' (literally) in freezing water.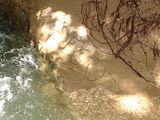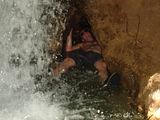 Carving reading "The Grotto" along the side of the jacuzzi.
Kyle discovered a little inlet behind the waterfall that feeds the jacuzzi and sat there for a bit.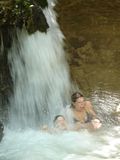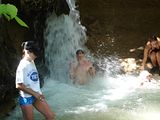 Melissa and I go under the waterfall. I have never been so cold in my life!
Andy and Kyle test the waters, as I prepare to get in (far right).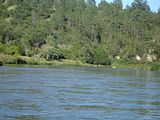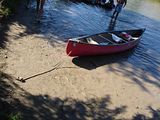 While canoeing, we saw deer drinking out of the river (you can only see them with the full-sized view; they are on the far right).
Brian ingeniously anchored his boat to a rock at this stop.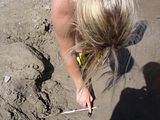 Melissa leading the way up the creek.
Melissa trying to determine if this huge beetle was alive. It wasn't.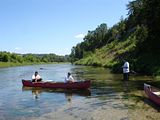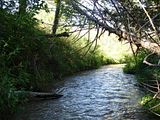 Brian and Andy resting in their canoe.
Gorgeous view as we walked up the creek.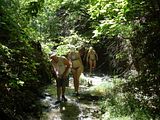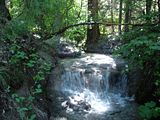 Tommy, Jackie, and Melissa forging the raging waters of the creek.
The top of the Stairstep Falls.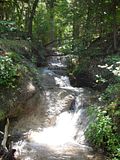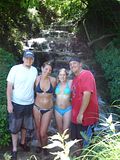 Stairstep Falls.
AMBF, me, Melissa, and Sam in front of Stairstep Falls. Note the band-aid covering my freshly pierced naval. Call me crazy, but I had the wild thought that maybe I shouldn't dunk it in river water for two days straight. And yes, I did end up with a lovely tan line around the band-aid.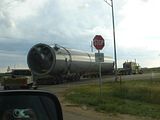 Heading home at the end of our trip, we saw this huge missile silo/grain silo/sewer pipe (those were our guesses). Anyone know what it is? Paladin, I know you do!
We got home a little after 11 on Sunday night, tired and sunburned but having had such a great time it didn't matter. The weather cooperated perfectly and there were no major mishaps (I have a bruise on my leg from bashing it into an underwater rock while swimming, and both AMBF and I and Katie and Kyle tipped our canoes at one point, but that was it.). Next year we're talking about taking it up a few notches and braving the Colorado River. Now that we're experts and all.