Two quickies today, which I realize could be taken as some sort of sexual innuendo, and I of course full encourage you to take it as thus.

First. Try this. No, I mean it. Try it NOW. Open another browser window (because God forbid you use THIS one) and go to Google. If you have been living under a rock for the past five years, that would be www.google.com. Type in "failure" and check out the results. The first one is hilarious, and the second somehow makes it even better, as it brings the humor full circle to offend both the left and the right. If, for some reason, you want instant gratification and are too lazy to go through the work of doing this experiment yourself (i.e. you're American), you can click here to see what you get.

Second. This checklist was on The Daily Show with Jon Stewart a couple of weeks ago, and it's just as funny now as it was then. Funnier, even, since I've allowed it to fester for two weeks because I forgot I had it.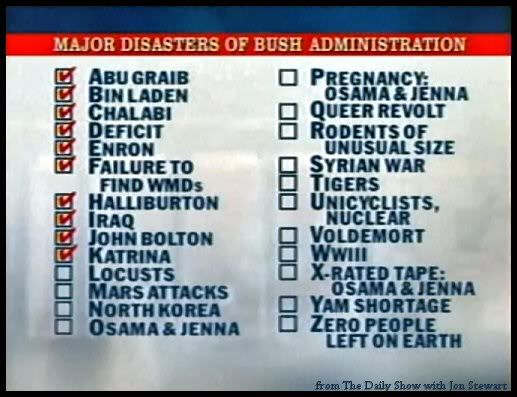 Note both the "Princess Bride"
and
the "Harry Potter" shoutout. Further proof that Jon Stewart and I are soulmates.