So, as you may know, Monday was Halloween. And it's now Wednesday, 48 hours later. And I think it's about time for a recap, eh? It's almost timely.

At work, my department decided on a Twilight-Zone Delivery Room theme with a little gender-bending, meaning that it was the men who were pregnant and giving birth. Here's me as a nurse with one of the "patients," who decided to go as a redneck, because of course it would be the redneck dudes who up and get themselves knocked up.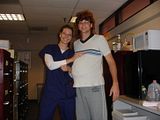 I didn't dress up on my own this year, as my spirit was a bit deflated after my costume idea last year was widely vetoed as too offensive: Laci Peterson. A dead pregnant lady. But I did buy a feather-trimmed witch's hat to wear while handing out candy. And I did decorate the front porch with spiderwebs (I do not remember those things being so hard to work with when I was a kid!), ghost lights, and a light-up Frankenstein head. So while I didn't technically dress up, I was all about the Halloween decor.

I gave away loads candy to loads of completely adorable kids in completely adorable costumes, and reluctantly gave it away to teenagers carrying pillowcases who were dressed as...teenagers. Although please note that I was careful not to appear reluctant since I didn't want to experience any tricks* by disgruntled 16-year-olds. And let me tell you, there must be an illness of epidemic proportions affecting the youngsters in this town based on the number of kids who came up to me with two or even three bags asking for extra candy for their little brother or sister who was "at home sick" or "waiting in the car because he didn't feel good" or "completely fictional." I didn't cave, though, so there are dozens of small, sick children who went without candy this Halloween because I am a cruel, evil person.


*Which sounds vaguely dirty and prostitution-related, but by which I just meant eggings and pumpkin-smashing and the like.