Hmm. Um, whoops. Before you complain about your Secret Santa, you should make sure it wasn't your boss. Because I think bosses have a tendency to be shitty on the small gifts, but then come through in a big way for the final exchange*. Behold: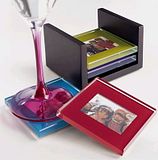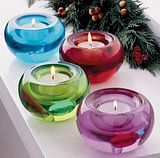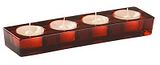 Because I love colored glass. It's
pretty
, you see!
Also, I know everyone LOVED my
sunburn pictures
(SEVENTY-TWO comments, people! Where's the love now, when I'm
not
cancer-ridden?), so tomorrow I'm going to share more burn pictures. As a strict warning against grabbing burning poptarts out of a toaster. So prepare.
* We exchanged final gifts a full 12 days before Christmas. Because, you know, even though it's called "Secret Santa," we wouldn't want anyone to think it was actually associated with Christmas, what with the rampant political correctness and all.