Which is maybe close to the same thing. Except, I really loved Toronto. So now I feel bad for all the Canada bashing, eh?

Toronto is cool like this.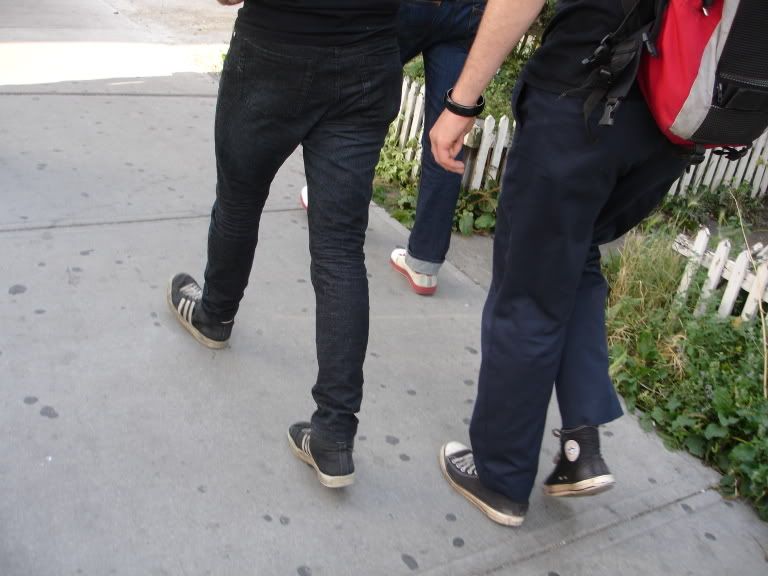 Which is a trio of guys walking down the street wearing old school Vans, old school Adidas, some kind of cool velcro-instead-of-laces shoe (which you can't really see well, but they are the red and white ones in the front), cuffed jeans, skinny jeans, and a bracelet. So to recap, we have a) a trio of guys, b) walking, c) in three pairs of cool shoes, d) wearing two instances of cool jeans, and e) a bracelet. That's too much coolness for me to handle and I nearly died there on the sidewalk.
Toronto is also cool like
this
and
this
and
this
.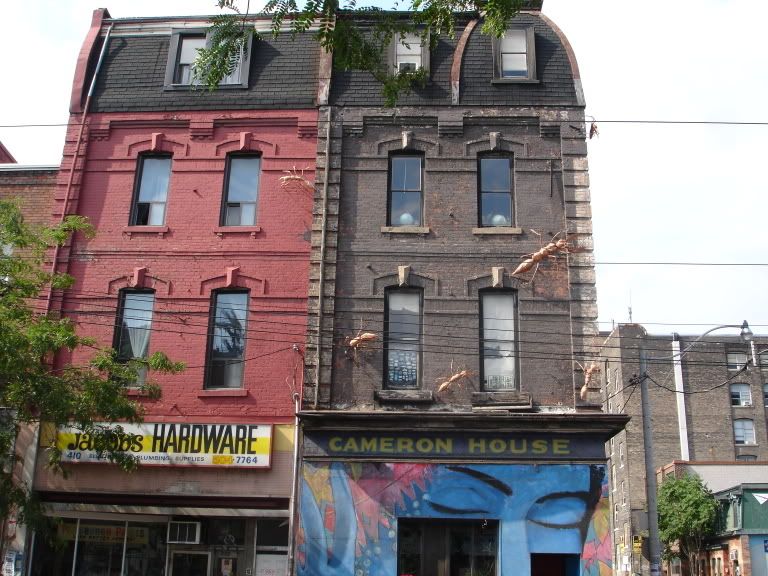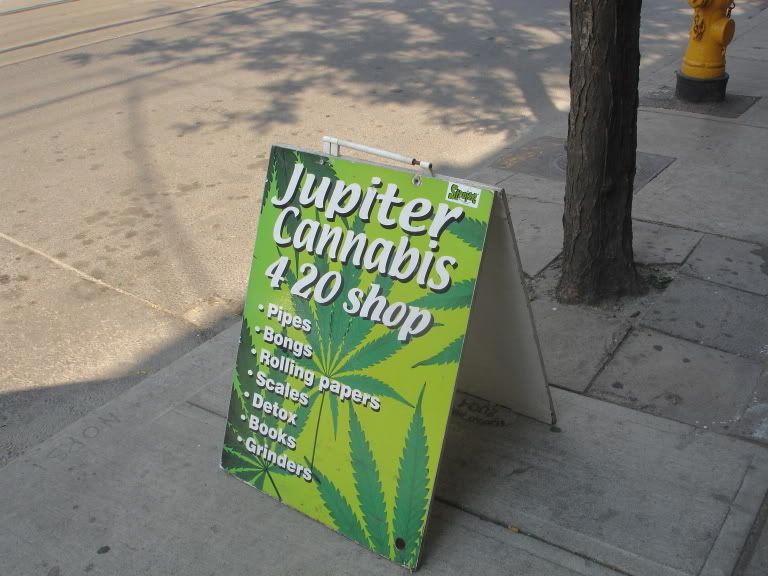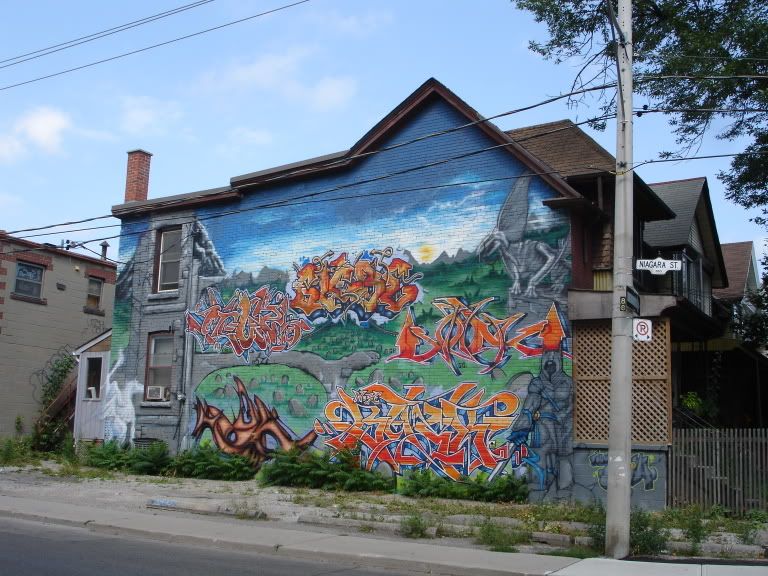 Other things I liked about Toronto: all the bikers (as in cyclists, not motors), all the dogs, all the little boutique shops. The kind of hippy dippy liberal vibe. Lots of yummy little restaurants. Going to see Second City. The Asian guys with Canadian accents. The Hard Rock Cafe overlooking the Skydome. Hockey! And the guy whose fingers are
pictured below
.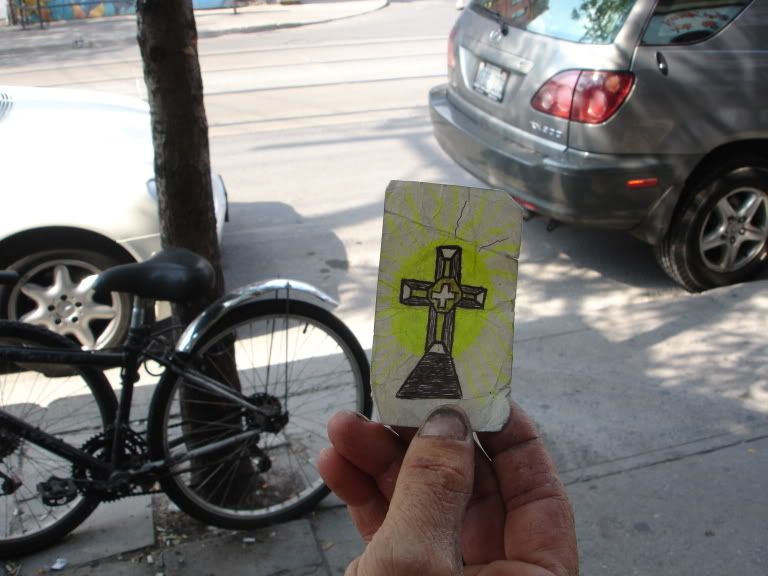 This guy sitting on a bike, obviously homeless, stopped me and asked me if I could spare a smile. Right, exactly - I was expecting him to ask for money, and he asked for a smile. So I did a double-take and laughed, but then...ah, ye gods, I was caught in a half hour conversation with him and now way to escape. He showed me this little picture he drew and was very proud of it and asked me to take a picture of it. But it was really very sweet and hard to resist, all, "You can take a picture of it if you want; I don't mind!" He also asked me to take a picture of
this
.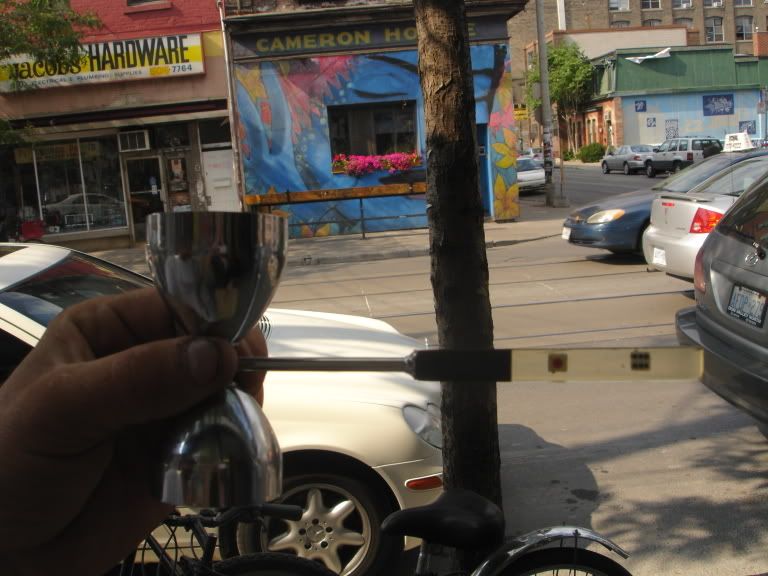 He had a long story to go with this (he had a long story to go with everything), but mostly he was awed by the two tiny die floating in the handle. He made sure to position it for the picture with the die adding up to seven because that's lucky.
I really, really hate to say this...it goes against everything I know and every grain of my body....but I wouldn't mind living in Toronto. Oh, shit. I totally forgot. The place has NO pop selection at all. I could not find anything but Coke or Pepsi or some knock off of Mountain Dew. And I had a minor catastrophe when we were trying to take a taxi somewhere and were out of Canadian dollars, and BOTH freaking ATM machines within walking distance took Interac and Mastercard only. NOT VISA. I was in Montecatini Treme, a tiny non-touristy town in freaking Italy a gazillion miles away, and their ATMs took Visa. But Toronto - a hop, skip, and a jump away from New York - doesn't. So maybe I won't move there. Bastards. (Okay, that's kind of not fair because we later found about fifty that did...but the two that were there when we needed them most didn't. So they're still bastards.)