I finally decided to figure out this whole picture-posting thing. I have joined the ranks of those with tiny pictures of themselves in their profile, which may actually defeat the whole "Anonymous" thing. And it may make my Federal Witness Protection Program officer a little ticked. But as long as no one clues in Big Jimmy "The Nose" Trivno, I should be good.

It's on now, bitch. Because now I can show funny pictures like this, taken at a local grocery store.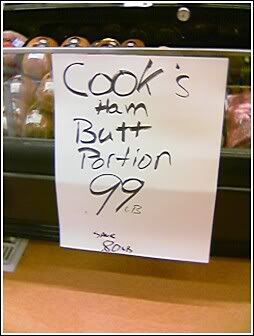 "So, kids, who's up for a little butt meat?"