Reading my previous posts and the comments, I realized that I may have made my home state out to be less than thrilling. So I have compiled a list of all the fantastic things there are to do and see here. (This is for you, Walking Wounded - you are coming to what can only be described as the most uniquely shaped state in the union! Besides Michigan. Or Delaware.)

1. Carhenge. This is what happens in Nebraska when people get bored and drink whiskey.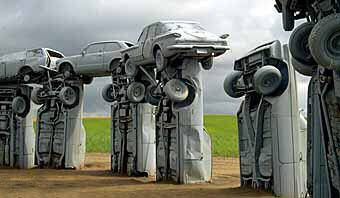 2.
The Great Platte River Road Archway Monument
, or as we locals affectionately call it, "That Thing Over the Interstate." That's right, folks, we here in Nebraska have the technology to
build a bridge over the interstate.
And - get this - you can walk across it. And I love this description of it: "The Great Platte River Road Archway Monument rises above the Nebraska plains, evoking memories of the timeless West." Because the folks on the Oregon Trail (did anyone else play and
love
that game? I always died of diphtheria.) often encountered giant, 8-story buildings in the middle of the prairie.
3.
The Henry Doorly Zoo
.
Worth visiting if only for the word "Doorly."
4. Casinos. Actually these are in Iowa right across the river. But they make the list because everyone in Nebraska goes there.
5.
BoysTown
. Although why you would want to go here, I'm not sure. It's kind of famous, I guess...it's got that statue with the one kid carrying his brother with the quote "He ain't heavy, Father, he's m' brother." And there was that 1938 movie "
Boys Town
" starring Spencer Tracy and Mickey Rooney, so if you're a huge fan of old movies, maybe it'd be kind of interesting. And OH MY GOD, the tagline to that movie is 'The life story of a boy who was "born to be hung'!" There are so many jokes there, but I'm going to go with this one: I watched that movie last night...except it was called "Cumming of Age" and starred Starburst Arbor* and Duke Steel.
*My real "porn name" based on the first pet's name and street you grew up on formula.
**Ripped of from Robert.
***For more on the manure fire, click here.