You may want to shield your eyes from this picture. It is quite possibly the most disturbing thing I've run across in a while.

Second chance not to look...

Okay, you kept going, but I warned you...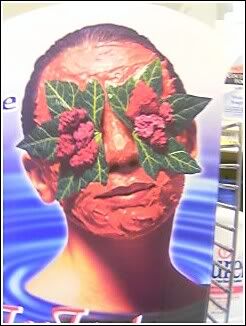 What is this, you ask? Why, it is the picture on the front of a pouch containing a face mask - you know, like girls put on their faces during slumber parties? However, to me it looks like this girl has massive amounts of radiation exposure. I can't even bring up the berries and leaves on her eyes. They are just too disturbing.

I would not buy this product. Ever. In fact, I may stop shopping at Walgreens altogether, because that is where I saw this. This would, of course, cause a massive loss of revenue for the store and they would have to shut down, because I do provide approximately 48% of their profits. This would cause layoffs and ruin employee's lives, but it would be worth it if I didn't have to see this anymore.