I always get very excited around this time of year. It's so close to being summer I can almost taste it. And...it tastes like coconut.* I still get antsy for the end of May to come, because my brain still thinks that the end of May = the beginning of summer vacation. Never mind the fact that I haven't had a summer vacation since I graduated high school oh so many years ago. Never mind the fact that corporate America forces its employees to toil inside in windowless offices during those perfect summer days. Never mind the fact that all I want to do is go sit out in the sun and soak up its wonderful, cancer-causing rays.
Which brings me to my next random point. I also can't wait for summer because there is very little I enjoy more than laying out. For one, it makes my already smooth, sleek body even smoother and sleeker, if that's possible. It's all about slipping into my new bikini, grabbing a towel and an summery drink (like amaretto and 7up...mmmm....alcohol) and heading out to the dock at my friend's lake cabin. There is NOTHING** better than laying there feeling the rays of that bright orb in the sky caressing your body, making it warm to the touch. Watching your skin turn golden with a subtle sheen of suntan oil. Having the hunky pool boy constantly bringing you a neverending supply of drinks. Okay, so there's no pool boy at the cabin. But really, how cool would that be? (snap, snap) "Jorge! Another drink!" "Right away, Miss AMG!" And all of the drinks would have those little umbrellas...sigh. Once I win the lottery***, the first thing I'm going to do is get a hunky pool boy.
But as you can see, I love laying out. What I'm sayin' is, the sun and I, we get along. And cancer? EFF YOU. I am fully aware of the dangers of tanning. However, I have faith that our wonderful men and women in the science fields will work something out by the time I'm forty. Um, really, please do? Cause I'm kind of screwed if you don't. So if you could just go ahead and cure that, that'd be great. Pretty please?
Here's me, giving myself cancer: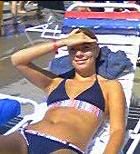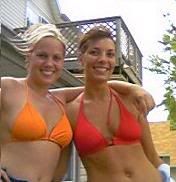 And here's me in 20 years: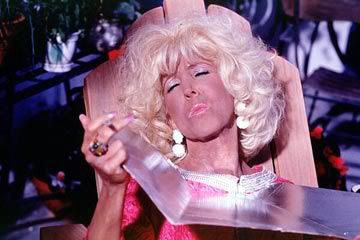 *I don't know why, but coconut is THE taste of summer to me. I think it might be the copious amounts of coconut-smelling tanning oil I used in high school. Mmmmmmm coconut.
**Nothing that you can write home to Mom about, anyways.
***Assuming I ever start to play the lottery.