I want to publicly apologize to my boyfriend. (Who will henceforth be known as AMB: Anonymous Midwest Boyfriend.)

Recently, he went out of town and I let him take my Sony DSC P100 5.1 Megapixel digital camera with him. Which, on the last day, he lost at a bar. I was (at the time understandably) a little upset. I LOVE that camera. I had taken many a fantastic picture with that camera. And it was gone. Lost in a drunken haze. It had previously been dunked in beer in a drunken haze (YOU KNOW WHO YOU ARE), but it came through like a champ after a good cleaning courtesy of the Best Buy dudes (who were kind enough to leave pictures of themselves on the memory card, as you can see here):

However, I now realize that he did it completely on purpose and probably even planned to do it in order to make my life much, much better.

Because, as a replacement, he bought me this beauty, the P200 (note the emphasis on the "200"):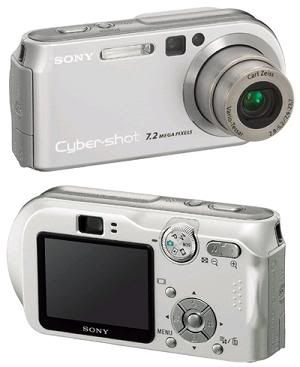 Oh, yes. That is what you think it is. 7.2 megapixels of picture goodness. A huge 2.0" LCD viewing screen. SO PRETTY! The images that I thought were amazing before with my old camera now look like nothing but pictures taken by a four year old with a disposable camera indoors without a flash.
So, AMB, I am sorry that I was upset about losing my camera. I realize now you did it all for me. You are a wonderful, wonderful person.