Okay, you know a show is going to be good when preceded with this warning: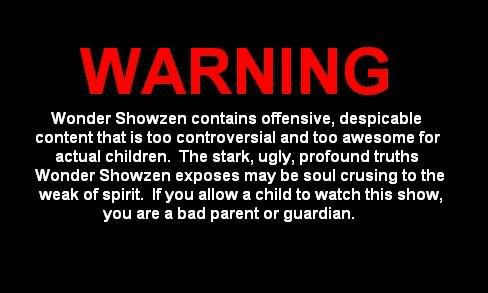 That alone is enough to tell me the next fifteen minutes of my life are going to be well worth living, unlike the time I accidentally watched the first fifteen minutes of "Charlie's Angels 2: Full Throttle," during which I lost 52 IQ points and dreamed about having a lye enema with a steel pipe. A
cold
steel pipe.**
Even "
Robot Chicken
" doesn't have that kind of introduction (but they
do
have Seth Green, who is a creative genius and with whom I would consider having lots of tiny, funny, red headed children***).
So if you're bored (and have cable) watch (and prepare to be deeply offended by in the funniest way possible)
Wonder Showzen
!****
* I am not ordering any sort of physical violence to children here, nor do I condone such actions. This is merely the name of a "Wonder Showzen" segment.

They

condone it.
** Not comfortable.

At all

. Trust me.
*** If he asked.
**** Note to creators of MTV2's site: Flash is cool and fun, but there is definitely a point where there is TOO MUCH and it becomes VERY ANNOYING, kind of like the use of RANDOM CAPITALIZATION of PHRASES AND WORDS for no PARTICULAR REASON.



**UPDATE**
AMB, my Anonymous Midwest Boyfriend, read this and wanted me to point out that

he

discovered Seth Green first, and that

he

should, in fact, be the one to have tiny, funny, red-headed children with him. But I can watch if I want to.