My friend Lobo (formerly "Joe-Without-a-Nickname") has balls of steel. Steel, I tell you! Maybe even titanium. Definitely something stronger than just skin and sperm.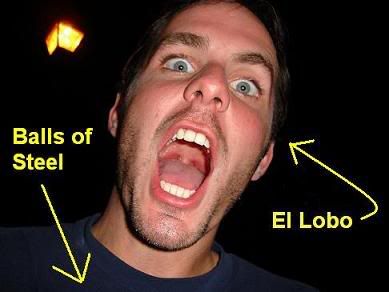 He put in his two weeks' notice at the restaurant where he works (obviously; would he put it in at a restaurant where he
didn't
work?) two weeks ago. This is the same restaurant that my group of friends goes to every Tuesday for 35 cent wings, and we always sit in his section.
Last Saturday, he no-called/no-showed in favor of doing the Hour of Power with us, a completely understandable, logical decision, if I do say so myself. Which, by saying it, I just did. And I just blew my mind a little.
So this last Tuesday rolls around. Knowing that this was supposed to be Lobo's last day, we all gather in the restaurant's outside seating area (the location comes into play later) to celebrate. However, he's not there. We ask the waitress, and she (rather testily) replies: "He's not here." Us: "Oh, he called in?" Her: "He didn't call." We all laugh heartily at this, even as the waitress silently cursed him for not showing up and doubling her workload. In retrospect, we should have waited until after we ordered our food to do that, since our reaction most likely increased our spit-in-food chances.
After she left, we call Lobo to give him shit about not showing up on his last day. Fifteen minutes later, a motorcycle screams through the parking lot. It's him. He jumps the fence to the outside seating area and pulls up a chair.
So that's balls enough, right? To no call/no show at your job, then show up and hang out?
This is where the titanium part comes in. He pulls out his cell phone and
proceeds to call into work from our table.
Which is at his work. Where he was supposed to be several hours ago.
And even better, he orders food and beer from the waitress when she comes out the next time. I'm pretty positive that spit was the least of his bodily-fluid-in-food-worries at that point.
This does all have a downside, though, as entertaining as it was. Because now all of the waitstaff at the restaurant know that we are friends with Lobo, and I suspect that should we continue to go there on Tuesdays, our service will be less than spectacular. Especially since, through the course of the night, we broke three glasses. And only one of them was on accident.