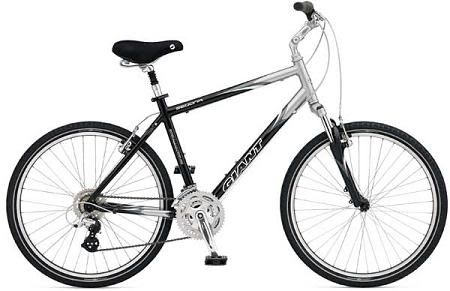 Meet Fred. Fred is my new bike. I don't know why I'm calling it Fred, but it seemed to fit for some reason. I'm not sure why I bought it, except my mom and aunt bike a lot, and every week a local restaurant hosts a "Thursday Night Taco Run," which takes place on - can you guess? - Thursdays. You bike a nature trail for about 12 miles, end up at the restaurant where you can get their $5 pitcher-of-beer-and-three-tacos special, and bike back. So really, I bought the bike more to feed my alcohol addiction than for any real fitness purposes.

However, I must say, once I put my slick helmet on and threw on my bad-ass sunglasses, I felt suddenly...empowered. Like I had the freedom to go anywhere! Visit anything! Until I remember that I had a sweet-butt car that could do the same thing, only in a fifth of the time and with absolutely no effort on my part.

Despite that, though, I still plan to bike around a couple of times a month, if for no other reason than I don't want to see Fred languishing in the garage gathering dust, forcing me to contemplate the money I spent to buy what has become, essentially, a home for dozens of little brown spiders. I live within biking distance of a big, pretty lake with lots of trails that I really should enjoy at least once. Something about fresh air and exercise being good for you...? I'm not really sure how that works, but hell, I'll try anything once.