Apparently the term "horseballs" is quite intriguing. I didn't know so many people had a vested interest in equestrian testicles.

Depending on what you were expecting, you may be disappointed, as the true context of the phrase does not involve actual horses, though it does involve balls. Golf balls, though, not testicle balls.

Horseballs is a really fun game that the folks in my circle have recently become acquainted with. It's one of those games that's a blast to play sober, and even more fun to play drunk. Like say for instance, Russian Roulette.

To play, you need two PCV pipe goals, and six throwy things made of two golf balls attached to a 18-inch or so long piece of string (or about the length of three average penises). See figure 1.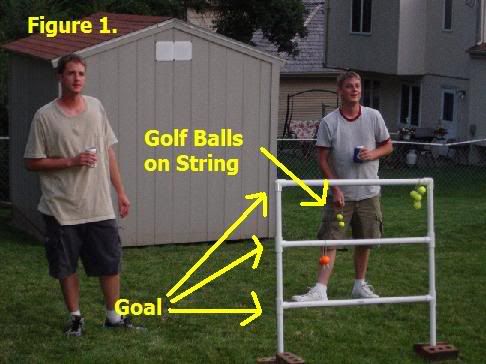 You set the goals up about 20 feet apart. Then you have two teams of two people, say Team A (for America) and Team E (for Evil) (I think we can all see who will win this). The teams split up and one person from each team goes and stands by each goal. From then on, it's a lot like horseshoes (or so I've been told, never having actually played that game). The person from Team A and the person from Team E alternate throwing horseballs until they have each thrown three (round one). Then the two players on the other side go (round two). And then the other side goes again (round three). And so on and so on. The goal is to wrap your horesballs around one of the three horizontal pipes. The top bar is worth three points; the middle, two points; and the bottom, 1 point. The first team to get 21 wins.
Here you can see our good buddy Jimmy and his $47.00 visor demonstrating a throw.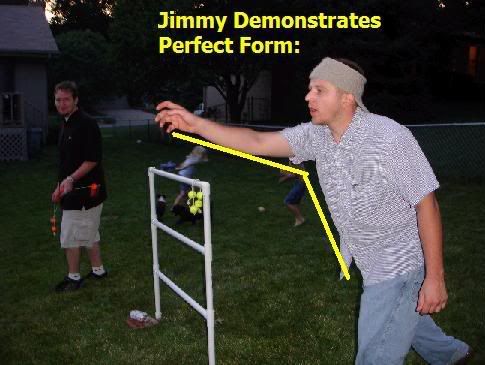 To score, each player adds up the points scored each round, and the player that scored the most points subtracts the other player's points. So say Team A threw a 3, a 2, and missed one, and Team E threw a 1 and two misses. Team A would get four points, and Team E would get 0 (Team A: 3+2+0=5; Team E: 1+0+0=1; 5-1=4).
Because Evil always loses to America. Hear that, terrorists? Watch yourselves!