I have a wonderfully large, colorful bruise on my arm, as you can see here: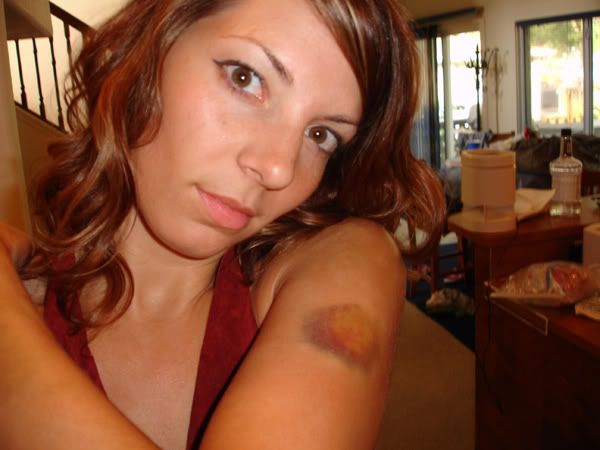 This bruise has brought out the protective, or perhaps morbidly curious, side of people everywhere. I can understand friends and family asking, but complete strangers? Now, even if there was some fantastically horrible story to go along with it (which, I assure you, there isn't), does the checkout girl at the grocery store think I'd tell her?
I have begun telling everyone who asks a different story*:
I was hit by a wild pitch playing in the final championship game of the Women's World Series of Baseball (we won!).
It's my new tattoo.
It's a battle scar from kicking AMBF's ass in a wrestling match.
I was bitten by an unruly child, who I believe to be the spawn of Satan, as he was challenging his bedtime.
I met up with the business end of an evil vacuum cleaner.
I was beat up by an eight-year-old who was trying to cut in line while waiting for the new Harry Potter book.
There are tiny gnomes that live in my basement and take an aberrant pleasure in secretly beating me during the night.
I joined Fight Club. I'd tell you more, but the first rule of Fight Club is you don't talk about Fight Club.
Three words: adult dodge ball.
I was hit by a frog in a vicious game of frog volleyball (yes, it is what you think, and no, you don't want to know more).
It was a freak masturbation accident.
I hit myself in the arm with a golf ball while practicing my swing - yes, I'm
that
bad.
A game of horseballs went wildly awry.
The totally boring truth is, I bruise easily, and it's not rare for me to wake up with a large bruise on my leg or back and no knowledge of how it got there.
For which reason I firmly believe the gnomes theory.
*Interestingly enough, one of these is the truth, and several of these are ways I have been bruised before. I totally made up the others, though. But the masturbation one you can attribute to Scott C...I don't know if he made that up or if that's from personal experience.