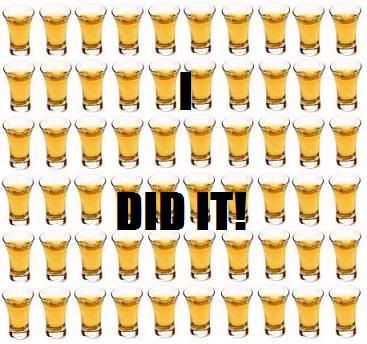 I did the Hour of Power on Saturday night with AMBF, Magnum DI, G/T, and Joe-Who-Does-Not-Yet-Have-A-Sweet-Ass-Nickname*. Scott C was there, but he just watched cause he's a pussy. It was my first time - I was an Hour of Power virgin. I popped my Hour of Power cherry. I deflowered my Hour of Power pureness. And with that, I have exhausted my loss-of-virginity euphemisms.

For those of you who don't know (read: aren't raging alcoholics**), the Hour of Power is when you take a shot of beer every minute for an hour. And let me just say, damn, that's a lot of beer. And it hits you fast. And it's unrelenting. The first few minutes, you're like "Huh, this ain't so bad!" Then minute twenty rolls around and you've changed your tune to "Are you f-ing serious? Another one? We just did one!" And then you remember that you still have forty more to do. And you die a little bit inside.

But I made it, and didn't even vomit afterwards! Next up: The Century Club!
* He has one, but it's lame: [Name of restaurant where he works] Joe. And on a side note, he took me for the best ride EVER on Saturday night (on his Honda motorcycle). I've been on bike rides before, many times, but this one was amazing. I want a bike. Or just to have him at my beck and call so I can go on a pee-inducing ride at my will.
**Not that I'm a raging alcoholic, because I'm not. But I think maybe the person who introduced me to this game is. You know who you are!