I got the latest Entertainment Weekly in the mail last week, and just today actually looked at it. And...what the hell is wrong with Scarlett Johansson?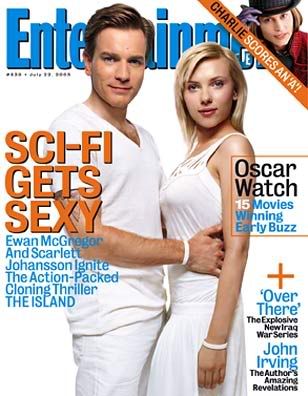 Scarlett is a pretty good looking chick and can definitely be
hot
at times, and lord knows the girl's got some fantastic boobage (which I could link to, but I'll let you Google that yourselves). But why does she look like the
Real Doll
version of herself here? Has she, perhaps, been taken over by aliens? Is she maybe on drugs? Was the real Scarlett busy the day of the photoshoot, so they used a wax stand-in from Madame Tussaud's? Or has she always been a robot and her handlers forgot to turn her on that day? Maybe that's why Ewan McGregor is holding her up in such a very awkward way here. Does anyone else see the subtle thrusting of his hips towards her?
I don't know what's going on here and it frightens me a bit.