It's a fairly widely accepted fact that Saturday Night Live has been...well, less than stellar the last few years. There are a few great performances or skits here and there, strung together by meaningless, non-comedic stretches of time during which you think to yourself that watching the Ron Popeil infomercial on channel three might be a better time.

However, throughout SNL history, one particular series of sketches has been my absolute favorite, and has never failed to amuse me. Far more than, say, the Crystal Clear Gravy commercial.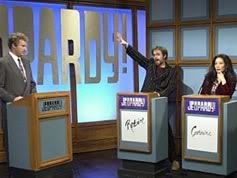 That's right, it's Celebrity Jeopardy! Some enterprising spirit has gathered each of the Celebrity Jeopardy SNL skits into one convenient site, which you can view
here
.
My favorite is the one with Sean Connery, Robin Williams, and Catherine Zeta-Jones (which is number nine from the link above). I should really just let you watch it, but my fingers just keep typing and I guess I'm going to share a choice piece of the transcript with you:
Alex Trebek
: Sean Connery, why don't you pick?
Sean Connery
: Well, the game is afoot. I'll take 'anal bum cover' for 7,000.
Alex Trebek
: That's 'an album cover', not 'anal bum cover'.
Sean Connery
: I can read, Trebek. That says anal bum cover. I've spent five years of my life trying to invent an anal bum cover, and failing to do so is my greatest regret.
Alex Trebek
: You have led a horrifying life.