Lesson 1: Do not wear a skirt when riding a bull, mechanical or otherwise.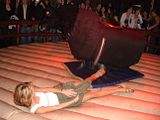 Lesson 2: If the phone rings while you are riding a bull, and it's for the bull, you should probably let him talk.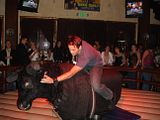 Lesson 3: Everything on "Fear Factor" has the Fear Factor logo on it. Including the trash cans.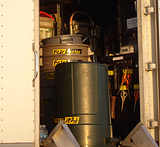 Lesson 4: When taking a picture of "Fear Factor" stunt being performed, the helicopter will turn out looking like a flea.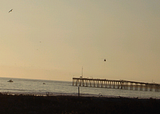 Lesson 5: Mickey Mouse, Cat Woman, Homer Simpson, Darth Vader, Spiderman, and Wonderwoman all DO exist and work on Hollywood Blvd.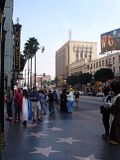 Lesson 6: Kids in Ventura use nude car washes to raise money for school activities.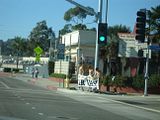 Lesson 7: Mustangs have tiny, cramped interiors that get uncomfortable quickly, aren't really that fast, and aren't worth the extra $5 a day for rental unless you get the GT, which we didn't. Also, the radio gets louder when you accelerate. Also, a suede jacket paired with a backpack is not a flattering look for anybody.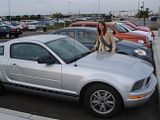 Lesson 8: Adam Sandlar has huge feet but small hands.


Lesson 9: Wine is good.


Lesson 10: Retarded children need thrift stores, too.


Lesson 11: Lindsey (yes, that's
Lindsey of iMod fame
) is the only person I know who can pull off shorts, a blazer, and high heels and look absolutely fabulous. Then again,
girl can rock a Puma sweatband and white-and-red-striped knee socks
and look fabulous, so I shouldn't be surprised. I unfortunately was too busy drinking $10 Long Island iced teas to take a picture of her fabulousness. Also, $10 Long Island iced teas will knock you on your ass.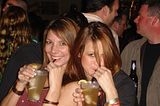 Lesson 12: Lindsey can get you into The Comedy Store, which normally has a $15 cover, for free simply by saying, "It's me, Lindsey!" to the guy at the counter. I also have no pictures of this, because I was too busy thinking about what my next drink would be. Also, Jay London, of "Last Comic Standing" "fame"? Makes you want to kill youself.
Lesson 13: There is no lesson 13.
(And no, I don't have permission from these people to post their pictures - I'm running on the off chance that not everyone in the entire world reads this. Although I think we all know they should.)