So tomorrow will be like any other day....except, oh, yeah, I'll be HERE: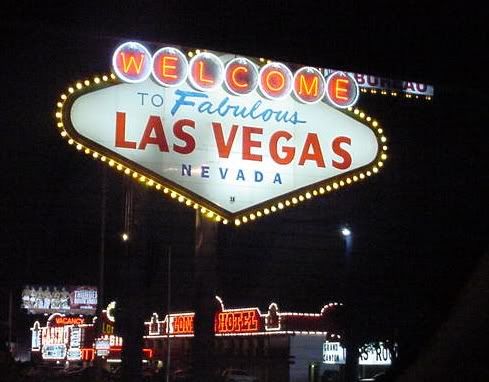 I know it seems like I'm traveling all. the. time. lately, but I went for a good 18 years straight not visiting any states that weren't contiguous to my home state, so I'm making up for lost time. I'll be going in order to attend a holiday party for one of our corporate work partners. And let me just say,
business casual
at a holiday party in Las Vegas? So much for the
feather and sequin bikini
I was planning on wearing. How boring.
I've been once before, but I wasn't 21 and it was just for a few hours. My entire time there consisted of standing on the carpet between slot machines watching the people I was there with gamble, and getting asked by the security guards to STEP AWAY FROM THE MACHINES PLEASE, MISS. (Anyone remember that Full House episode in Vegas? Anyone? No? Just me? Okay then.)
So...to that effect, I'm enlisting the aide of all three of my loyal readers. Any must-dos? Remember, I'll be by myself, so don't suggest anything that I'll look retarded doing alone. I generally look pretty retarded as it is, so I don't need any help in that area. And I am planning on winning at least two million dollars, but I don't know if they give that to you right away, so funds will be limited until that check clears. I will, of course, recruit ten other people to do an homage to the last scene of Ocean's Eleven. I'll probably try to dance at Club Areola (too obscure a reference?). But once I complete those two things, I'll still have probably 23 hours and 30 minutes to fill.
And don't expect a recap of the trip when I get back. After all, what happens in Vegas, stays in Vegas. I think they may make you sign a contract to that effect upon entering the city limits.