Here's Riley trying to slaughter a pig for our dinner later that night. Good boy. We love pork!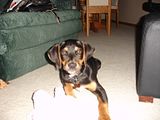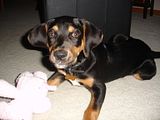 * I promise this won't turn into a "dog blog." Unless he does something extraordinary, I'll try to keep my adoring puppy posts to a minimum.** Does looking impossibly cute count as extraordinary?

** Okay, one more quick story. You know your life has changed when you unflinchingly pull a dead decaying rabbit foot, complete with bones sticking out of it, from your dog's mouth. Now that's love.