1. Buy Lemmings for PSP (important note: buy PSP first if not already owned). That's right, mother effing Lemmings, i.e. the best computer game ever made, i.e. the occupation to which many childhood hours were lost, i.e. the game I always wished would come back.

2. Sit with a favorite snack food.

3. Play Lemmings for hours and hours and hours. Repeat as necessary.

Also important in life fulfillment: seeing a big-haired, heavy metal 80s band before you die. I am not an Anthrax fan, but they were fun and they put on a hell of a show. And had very large hair. Sad fact? I totally recognized the guitarist, Scott Ian, from his many appearances on VH1's "I Love the 70s/80s/90s" specials.

Rob Zombie? Holy cow, hands down one of the best shows I've ever been too. There were the expected boobies (actually more goth chick than old lady) (also present in animated form on his accompanying video screen) (also present in 60s go-go dancer form on his accompanying video screen) (also present in bad horror flick victim form on his accompanying video screen), but beyond that, he really engaged the crowd and his intra-band chatter was hilarious. His intelligence just radiates off him - whether you liked "Devil's Rejects" or not, the director's commentary was brilliant. I would like to have a (closely supervised by a third party) beer with him. Side note: I couldn't link to Rob Zombie's website from work due to "tasteless, gross" content. Heh.

And to complete the completely unrelated topic trifecta, and to humor those other dog lovers, and to piss of those who are scared of this becoming a puppy blog, here are some recent pics of Riley: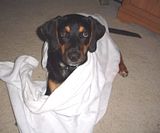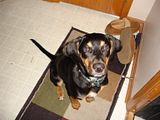 Oh, and P.S. I really hated Malan the first episode of Project Runway and couldn't wait to see him gone, but I didn't hate him as much this episode and his exit interview totally broke my heart. Boo.